---
The 1979 Trans Am entry list for Mosport generated a lot of local interest, as the grid was full of Canadian racers. Fan optimism was further bolstered as three of these drivers had Trans Am wins on their racing resumes. During the late '70s, the series was split into two classes - Category I and II. The quickest of the local entries in Category I was Bill Adam driving a Corvette. Two of the top Canadians in Category II were 1977 Trans Am Champion Ludwig Heimrath driving a Porsche 935 Turbo and Hamilton, Ontario Chevrolet Dealer Maurice "Mo" Carter in a Camaro.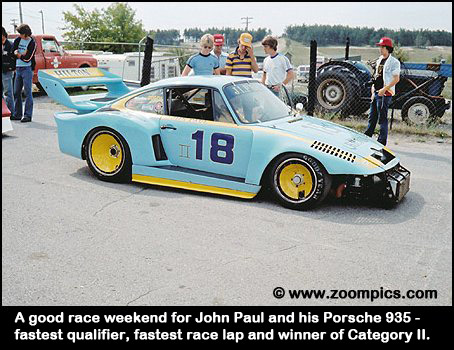 The SCCA (Sports Car Club of America) introduced the dual category system to Trans Am competition in 1977 and described the format as 'two championships for the price of one'. Many of the cars in Category I were from the SCCA amateur ranks, as B and C Production and A Sedan cars were eligible for the class. Most of these cars began as street vehicles that were modified for racing. The Category II cars were built strictly for racing. The class was for FIA Group 4 and 5 cars such as the Porsche 935 Turbo and U.S. GTs. The U.S. GT rules were quite liberal allowing builders to create tube frame chassis cars and almost any modification was allowed as long as the vehicle retained the original block and heads. As a point of comparison, a Category I Corvette with a 454 cubic inch engine was required to weigh 2,950-pounds and was restricted to 10-inch wide rims. This car would produce approximately 500-horsepower and the owner may have $20,000 to $40,000 invested in the car. Its Category II counterpart was allowed 16-inch wide wheels and if a 460 cubic inch engine was used the car would tip the scales at 2,500-pounds. A Category II Porsche 935 Turbo would produce approximately 700-horsepower and in 1979 would cost over $150,000. The photographs below clearly illustrate how different the same model of car could look when prepared to Category I or II regulations. But the dissimilarities under the bodywork are even greater.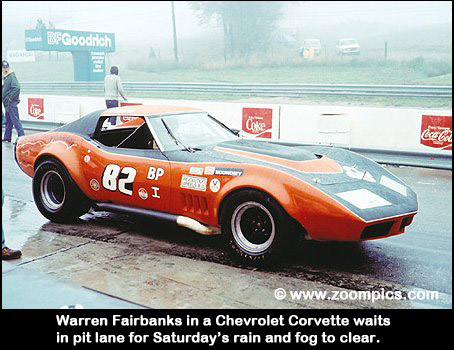 As is the case with most professional race weekends, practice was scheduled for Friday and qualifying took place on Saturday with the main event going Sunday. Unfortunately, wet weather moved in Saturday morning and as often happens at Mosport the rain was accompanied by fog. Although a few cars made a brief appearance on the track in the morning the fog became so heavy that Corner Workers could not see between stations. The organizers decided to wait for an improvement in the weather but it did not co-operate enough to allow the cars to take to the track safely. The day's activities had to be cancelled and qualifying was rescheduled for Sunday at 10:00 am with the forty-lap race taking place at 3:00 pm.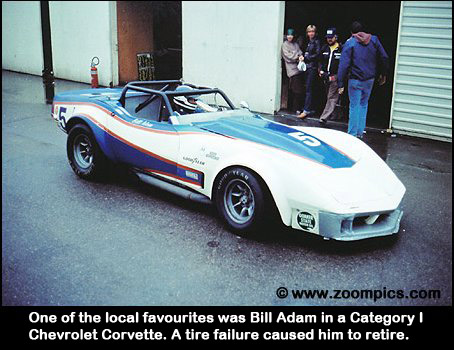 When qualifying finally took place it was John Paul Sr. who captured the pole with a 1:22.583. After seven events Paul, the 1978 World Endurance Driving Champion, was the series points leader in his Porsche 935 Turbo. Almost half a second behind him was Ludwig Heimrath. Rounding out the top five qualifiers was the Chevrolet Monza of Tuck Thomas, Preston Henn in a 935 and Mo Carter. First in Category I and sixth overall was the racing dentist, Frank Joyce in the Phantom Racing Corvette. Only two one-hundredths of a second behind was Bill Adam. Third in Category I was, the Placer County, California Sheriffs Inspector, Gene Bothello also driving a Corvette.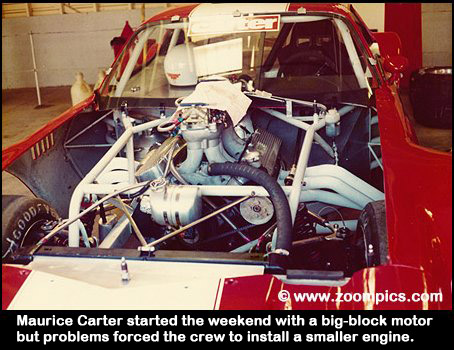 The period between qualifying and the start of the race provided some excitement for the local entries. Carter's Camaro was originally fitted with a big-block motor, however, he had lost the engine forcing the crew to make a quick change. Unfortunately for Carter, the spare motor was a small-block which obviously didn't produce as much power as the original engine. This work delayed Carter's appearance on the grid but he was able to take his starting position.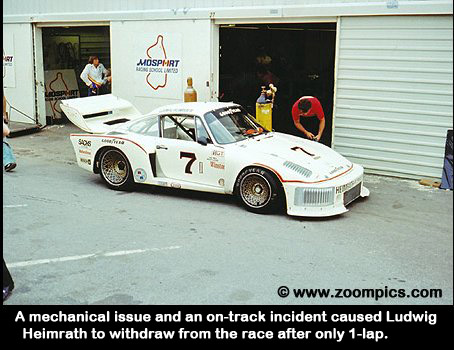 Heimrath also had problems, as he prepared to drive up to the grid the crew discovered a leaking fuel pump. The team was able to install a replacement quickly, however, the field had already started the pace lap by the time the repairs were complete. Rather than holding Heimrath at the pit exit until the field took the green flag he was waved on to the track about a half a lap behind the grid. After two pace laps, he caught the field and attempted to move into his front row starting position, however, he was forced off the track four times by William Maier in a Category I Mustang. Heimrath was so incensed that he returned to the paddock and parked the car. Later he said he that this had happened several times during the season with Maier and he didn't want to risk getting his car wrecked. Mr. Maier's view of the incident was never made clear but perhaps he was taking it upon himself to enforce the rules. In theory, Heimrath should have started at the back of the pack as he failed to make the starting grid. In the end, the Heimrath-Maier incident would be the highlight of the Category II race.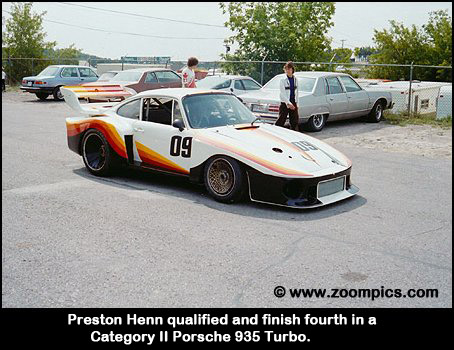 With Heimrath missing from the front row the field took the green and John Paul jumped into the lead. Mo Carter passed Preston Henn and Tuck Thomas from his fifth starting spot to take second. Henn and Thomas made contact before the first lap was complete. This forced Henn to make a lengthy pit stop for repairs and he fell three laps behind the leaders. Thomas' Monza lasted only eight laps before he was forced to retire with overheating problems. After this drama the Category II race settled down and Paul led the entire forty-laps winning by a margin just over 42-seconds. Carter finished second, the only other competitor on the lead lap. Moving up from his eleventh starting position to third was Quebec resident, Jacques Bienvenue in a Porsche Carrera RS. After his lengthy stop, Preston Henn managed to finish fifth overall and fourth in Category II.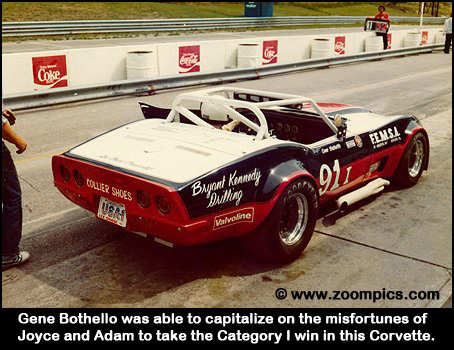 The pre-race activities were a lot less exciting for Category I competitors but at least the race was a little more interesting for spectators. Pole sitter Frank Joyce took the lead at the start with Bill Adam and Gene Bothello hot on his tail. Joyce held the lead until lap eighteen when he had to pit for gas. It appeared that he was having a fuel cell problem, as the car wouldn't run properly unless there was over half a tank of gas. Although he was able to continue this issue took him out of contention as he was required to make a couple of pit stops during the race. Joyce's misfortune allowed Bill Adam to take the lead but only briefly as a bad tire caused him to crash at corner three on lap nineteen. With the retirement of Adam and Joyce's predicament Bothello was in a situation similar to that of John Paul - a comfortable lead and little competition for the remainder of the race. He finished over 33-seconds in front of Jim Sanborn in a Corvette. Third, also driving a Corvette was Charles West.


| POS. | CLASS | DRIVER | CAR | ENTRANT | LAPS | RETIREMENTS |
| --- | --- | --- | --- | --- | --- | --- |
| 1 | II | John Paul Sr. | Porsche 935 Turbo | J.L.P. Racing | 40 | - |
| 2 | II | Mo Carter | Chevrolet Camaro | - | 40 | - |
| 3 | II | Jacques Bienvenue | Porsche Carrera RS | Bienvenue Porsche | 38 | - |
| 4 | I | Gene Bothello | Chevrolet Corvette | FEMSA/Kennedy | 37 | - |
| 5 | II | Preston Henn | Porsche 935 Turbo | Michelob Light | 37 | - |
| 6 | I | Jim Sanborn | Chevrolet Corvette | - | 37 | Gas |
| 7 | I | Charles West | Chevrolet Corvette | - | 37 | Suspension |
| 8 | I | Frank Joyce | Chevrolet Corvette | Phantom Racing | 37 | Accident |
| 9 | II | Fritz Hochreuter | Porsche 911S | - | 36 | Accident |
| 10 | I | Warren Fairbanks | Chevrolet Corvette | Fick Grinding | 36 | - |
| 11 | I | Al Ratcliffe | Chevrolet Camaro | PRO-Pulse Racing | 35 | - |
| 12 | I | Ray Williams | Chevrolet Corvette | Ray's Corvette | 35 | Transmission |
| 13 | I | William Maier | Ford Mustang | Maier Racing | 35 | Spark Plug |
| 14 | I | David Deacon | Porsche 914-6 | - | 35 | Shift Lever |
| 15 | I | Thomas Roberts | Chevrolet Camaro | Tom's Mechanical Emporia | 35 | Engine |
| 16 | I | Michael Oleyar | Chevrolet Corvette | E.F. Miller Co. | 26 | Electrical |
| 17 | I | Paul Canary | Chevrolet Corvette | - | 22 | Accident |
| DNF | I | Bill Adam | Chevrolet Corvette | Dead Bear Racing | 19 | Accident |
| DNF | I | Miguel Muniz | Chevrolet Camaro | Oftedahl Racing | 17 | Head Gasket |
| DNF | II | Tuck Thomas | Chevrolet Monza | Lancer Stores | 8 | Overheating |
| DNF | I | Carl Shafer | Chevrolet Camaro | Oftedahl Racing | 4 | Overheating |
| DNF | I | Bob Zulkowski | Porsche 914-6 | Metal Craft | 3 | Spin - Stalled |
| DNF | II | Klaus Bytzek | Porsche RSR | Bytzek Automotive | 2 | Mechanical |
| DNF | II | Ludwig Heimrath | Porsche 935 Turbo | Heimrath Porsche | 1 | Withdrew |
| DNS | I | Cam Champion | Chevrolet Camaro | Performance Cars | 0 | - |
| DNS | II | Jim Mancuso | Chevrolet Corvette | Manhattan Special 23 | 0 | - |
| DNS | I | Gary Carlen | Chevrolet Corvette | - | 0 | - |
| DNS | I | Keith Feldott | Chevrolet Monza | Howell Tractor & Equip. | 0 | - |
John Paul dominated the 1979 Category II Trans Am Championship in much the same manner as the Mosport race. He won six of the nine races in the series and ended the season with 169-points - 98 more than second place finisher Tuck Thomas. In fact, Paul captured the crown at the penultimate round in Trois Rivieres. His six victories plus additional wins from Peter Gregg, Bob Akin and Roy Woods allowed Porsche to easily capture the Manufacturer's Championship in Category II. Although Gene Bothello had more competition for the Category I crown he also won the championship in a decisive manner. He earned 115-points and was followed in the standings by Bob Tullius who only entered three races, but won them all. Bothello's four wins and victories by Gary Carlen also in a Corvette and, Camaro driver, Miguel Muniz gave the Category I Manufacturer's title to Chevrolet.

The 1979 season marked the end of the two-class structure in Trans Am. Participation had been light in Category II and the SCCA's justification for eliminating the class was the cost of these exotic cars. However, this isn't an entirely plausible explanation as many of the cars eligible for Category II were competing in the IMSA GT series where the entries were thriving. Despite the Pontiac royalty payments, for the use of the Trans Am name, critics suggested that several SCCA Board of Governor members wanted the poorly supported series to end and eliminating Category II was the first step.

However, CRC Chemicals came onboard the following season as the series first ever sponsor to provide financial support. Although their monetary contribution wasn't particularly large, estimated to be $300,000 and used mainly for promotion, it appeared to inspire the SCCA chain of command. For the 1980 Championship the SCCA implemented a fairly simple handicapping system. Category I cars were the basis of the new rules that included American and foreign-built production vehicles with performance restricted by a weight/engine displacement table. The foundation for the new formula was 2,600 pounds for five-liter car with a maximum rim width of 10-inches and wheelbase of 110-inches. The new regulations and the addition of CRC Chemicals signing on as series sponsor caught the imagination of competitors and fans, which contributed to a resurgence of the Trans Am championship.
---
Copyright Notice:
All content (photographs and text) appearing on this website are the exclusive property of © www.zoompics.com and are protected under International copyright laws. The subject matter on this website may not be reproduced, copied, stored or manipulated.

© Copyright 1999, 2000, 2001, 2002, 2003, 2004, 2005, 2006, 2007, 2008, 2009, 2010, 2011, 2012, 2013, 2014, 2015 and 2016