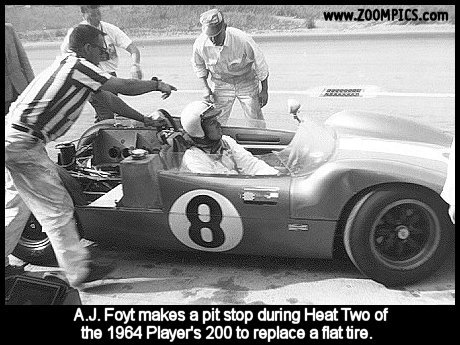 The 1964 event was not only the country's most important car race but also boasted the largest spectator attendance of any sporting event in Canada - 52,200 people. The cars were divided into three classes - under two-litre, over two-litre and Grand Touring. A review of the entry list provides some insight as to why the Player's 200 was so popular with the fans. The race included Dan Gurney in a Lotus 19 who held the lap record for Mosport at 1:31.5. A 370 horsepower V-8 Ford powered his car. Replacing the original European engines with American V-8s was a trend that began the previous year. Entered in the Chevrolet powered Chaparrals were Jim Hall and Roger Penske. The Chaparrals were considered radical as they used a fibre-glass body and were equipped with an automatic transmission. Bruce McLaren appeared with Penske's old Zerex Special, which he purchased from John Mecom. The car was built by Penske using parts from a wrecked Formula One Cooper. After taking ownership of the car, McLaren replaced the Coventry-Climax motor with an aluminum 4.5-liter V8 Oldsmobile engine. Indianapolis winner, A.J. Foyt drove a Scarab, which belonged to Mecom Racing and Jimmy Clark was on hand in a Lotus 19B. Shelby American entered two Cobras in the GT class driven by Ken Miles and Bob Johnson. Top Canadians in the event included Ludwig Heimrath in a Comstock prepared Cooper-Ford and Norm Namerow in a Lotus 19. If a stellar entry list, which assured a competitive field, wasn't enough to motivate the drivers there was $11,000 in prize money.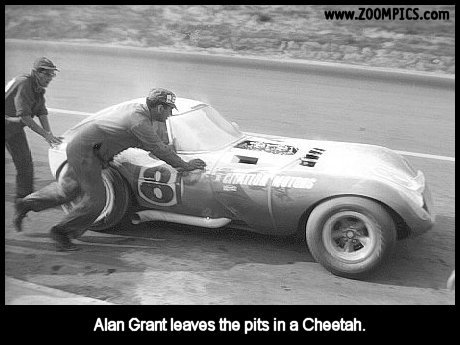 The event was staged as two heat races each being 100 miles in length, which was 40 laps of Mosport's 2.459-mile long track. On the pole for heat one was Dan Gurney. His fastest lap in qualifying was a 1:32.2 for an average speed of 96.01 miles per hour. His time was 0.7 seconds slower than the lap record he had set the previous year. Also, on the front row were McLaren, who turned a 1:33.1 and Hall at a 1:33.2. The fasted Canadian was Norm Namerow with a time of 1:33.9. He was followed by A.J. Foyt who turned a 1:34.7. Toronto resident, Ludwig Heimrath qualified sixth with a 1:35.9. The first six cars on the starting grid were in the over two-litre class. Quickest in the under 2-litre category was Bill Wuesthoff in an Elva-Porsche with a 1:39.5. Turning a 1:40.5 was his teammate, Joe Buzzetta also in an Elva-Porsche. Ken Miles qualified his Cobra fastest in the grand touring class. Unfortunately, one of the major contenders did not make the starting grid. Jimmy Clark's Lotus was withdrawn after a rear-end alignment problem could not be resolved.
Drama for the first heat began when Gurney's Lotus failed to start. He was moved to the pit lane as the rest of the field took the start. Heat-one began with a terrific duel between Hall, Foyt and McLaren. Penske, Pabst and Heimrath followed this trio. Gurney's crew was able to get his engine fired and he passed over half the field in two laps. A lap later the half shaft snapped on his Lotus ending his charge. Just before the halfway point, McLaren slipped by Foyt and three circuits later he went by Hall for the lead. Next to pass Foyt for third place was Penske, who had made a remarkable charge from the back of the grid. At the three-quarter distance Hall slipped by McLaren for the lead but two laps later the running order would be McLaren, Hall and Penske. By this point in the race Foyt had parked his car with steering problems. Next to encounter difficulties was Hall as he fell out of the contest on lap thirty-three with an overheating engine - caused by a water pump pulley failure. McLaren would go on to win heat one at a record speed of 92.79 miles per hour. He was followed by Penske, Pabst, Heimrath, Wuesthoff and Buzetta. The competitors now had an hour to prepare for heat-two.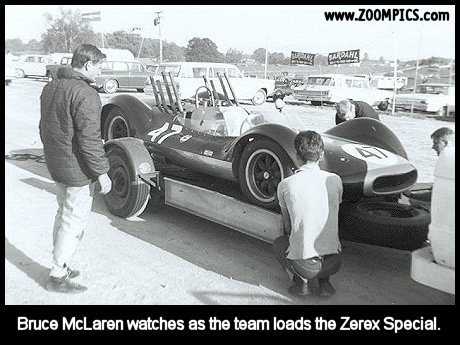 Based on the results of the first race heat-two began with McLaren and Penske on the front row and Gurney, Hall and Foyt at the back of the grid. In four short laps, Foyt was in the lead followed by Hall, Penske, Gurney and McLaren. Hall was able to pass Foyt. However, problems started to develop for the front-runners. The first two with difficulties were Gurney's Lotus on lap-12 with transmission trouble and Penske's Chaparral with fuel related problems. Penske had the honour of setting the fastest lap of the race. On lap-13 of heat-two, he turned a 1:31.6 just one-tenth of a second shy of Gurney's record. In the closing stages, Foyt retired with a flat tire. McLaren was able to assume the lead and win when Hall's engine expired two laps from the end of the race. This high attrition among the front- runners allowed Augie Pabst in a Cooper-Ford to finish second - almost two laps behind McLaren. Taking advantage of the many retirements to finish third overall and first in the under two- litre class was Bill Wuesthoff. The highest placed Canadian was Ludwig Heimrath, who finished fourth. Fifth overall and second in the under two-litre class was, Wuesthoff's teammate, Buzzetta. Third in the under two-litre category and sixth overall was John Morton in a Lotus 23B. For the second year in a row, the winner of the Grand Touring class was Bob Johnson. Although, the 26-year old McLaren was an experienced racer and Grand Prix winner his results were still quite impressive as it was accomplished with an older car against some of the top sports car drivers in the world on a track he had never visited before.